Case Study
Powering Coffee Sustainability in Mexico
Assessing the impact of the public-private partnership to enable prosperous coffee farming to co-exist alongside thriving communities and healthy ecosystems.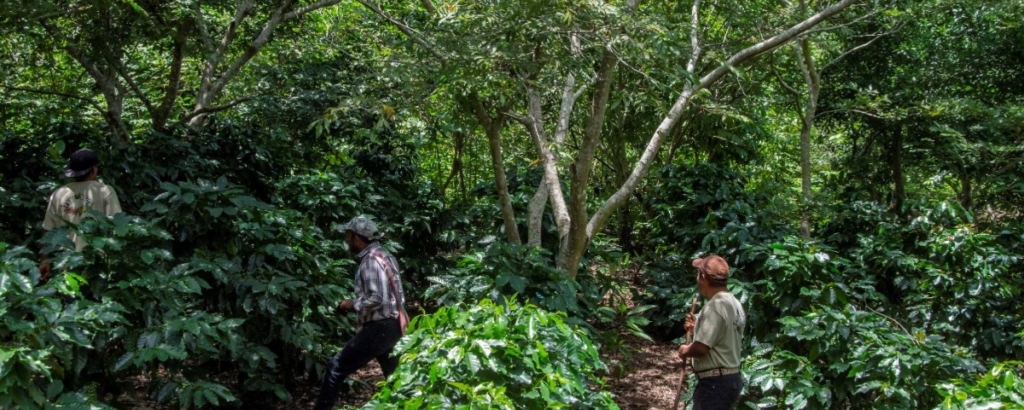 Chiapas is one of Mexico's key coffee-growing regions — producing over 41% of the nation's coffee — and supports the livelihoods of over 100,000 families. However, the impact of climate change and land-use dynamics in the region are reducing the suitability of growing areas, with productivity suffering under traditional cultivation methods. Those unable to adapt are increasingly likely to relocate their farms to higher elevations where protected areas and the most diverse ecosystems are located. Added to this is the current trend of warmer, drier weather patterns combined with agricultural expansion, causing a higher frequency of uncontrolled fires, with the resulting deforestation and degradation posing a significant threat to ecosystems, productive landscapes, and the local population´s wellbeing.
Scaling Up to the Landscape-Level
Olam's field staff have worked alongside coffee farmers in the "La Fraylesca" region — a comprising 8,321 km2 — for over seven years, providing coffee seedlings and productivity assistance, tackling leaf rust, and regenerating farms that may otherwise have been abandoned. A landscape partnership with the Rainforest Alliance was launched in 2018 to scale up these efforts and equip 900 farmers with the resources and skills they need to mitigate climate change, increase their productivity, quality, and access to the market.

Partners are working to restore degraded agricultural land by promoting agroforestry practices, which primarily involve re-establishing vegetation cover with coffee seedlings and native forest trees. By supporting farmers to enjoy a profitable and sustainable coffee business, partners hope to remove the incentive to encroach into natural protected areas and instead, engage farmers in good environmental stewardship. This way, the partners hope to change the trajectory of degradation, towards a living landscape where farmers prosper in thriving communities.
Using LandScale to Assess and Communicate Impact
Olam, together with the Rainforest Alliance, decided to conduct a LandScale assessment to understand the impact of interventions in Chiapas at the landscape level and adapt efforts to better suit the project area. LandScale provides the right framework to measure and monitor the net increase of productive areas, from agroforestry and restoration of degraded over-grazed land into coffee production. The holistic approach, which measured the combined impact of various activities in the landscape, has helped to align the interests of all partners involved, including government agencies, who are not directly involved in restoration activities on the ground but share the mutual objective of halting habitat destruction from uncontrolled fires.

The ability to track landscape-level improvements using LandScale and credibly communicate the broader sustainability benefits to Olam's AtSource customers, USAID, and other key stakeholders, will strengthen participation and support for the La Fraylesca project, and unlock further opportunities to scale up the agroforestry efforts. Through subsequent assessments, Olam also hopes to prove triple net positive impact and use the results to attract more partnerships to create further positive impact together.